Snacking Retro Style With 1950s Nesting Bowls
Vintage snack sets were very common in the 1950s, when parents of baby boomers were having backyard barbecues, card nights and plenty of T.V. time in front of the boob tube. Home entertaining was in full swing for the Postwar generation. The popularity of television certainly brought families together in the living room to enjoy more leisure time together.
Snack Sets Came In Plastic, Tin, Glass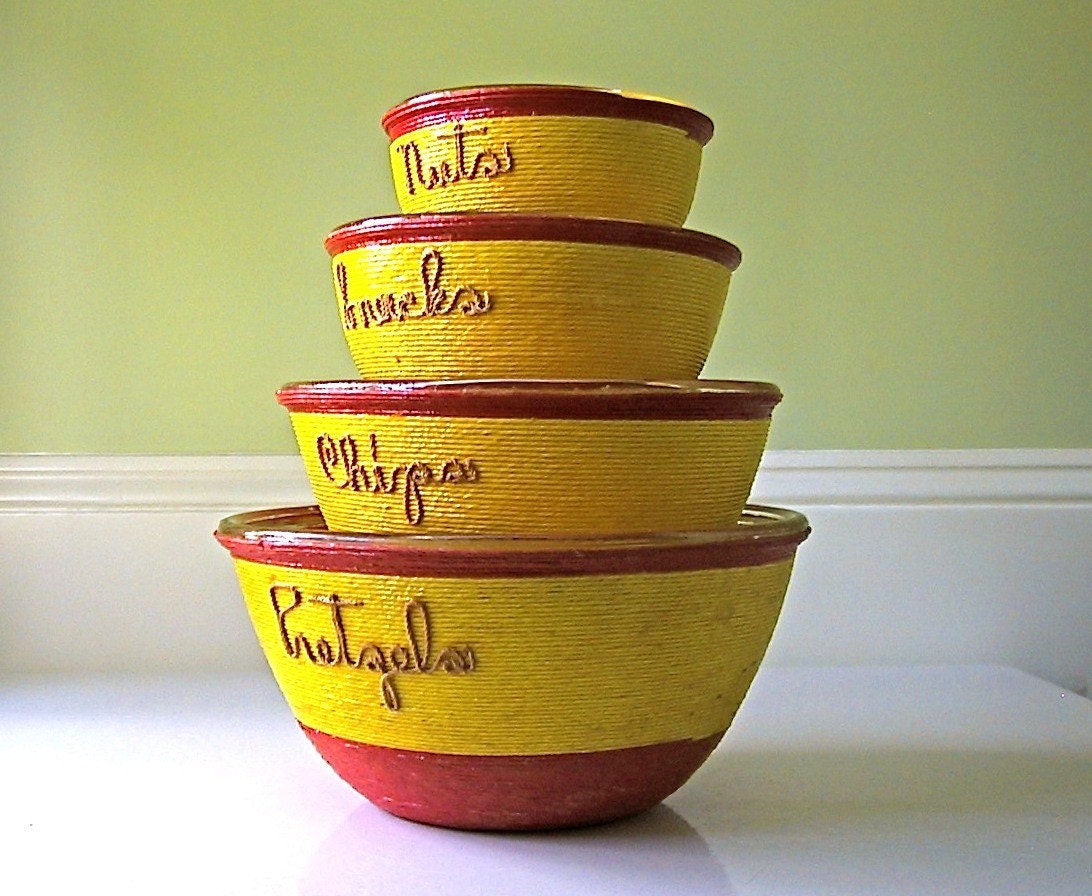 http://www.etsy.com/shop/winkinpossum
Snack sets came in a variety of materials and shapes from, plastic dishes to glass bowls with textured exteriors and could be found as souvenirs, premiums or in mail order catalogs. The classic glass bowl nesting sets which usually came with four bowls including "nuts", "snacks", "chips" ("potato chips"), "pretzels" were decorated with a roped covering in color combinations of yellow and green or yellow and tomato red.

http://www.etsy.com/shop/diantiques
I visited one Thrift shop in the Gramercy section of New York City and found a back room that was loaded with these glass snack sets. If you look online or in shops, you are bound to come across these wonderful serving sets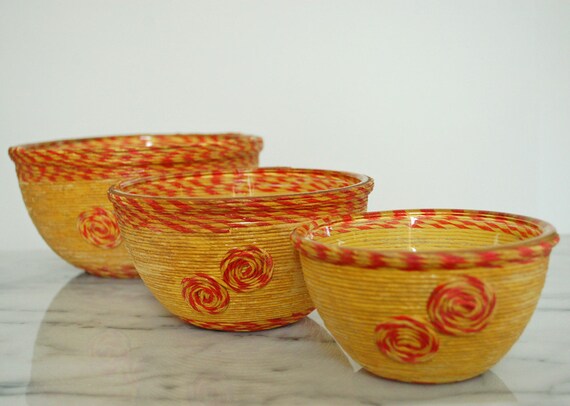 http://www.etsy.com/shop/littlepart
Nesting Snack Sets Now "Retro Chic
Prices vary according to location and condition but I would hope you could find a nice set for $18.00 - 45.00. Once a hard to sell kitchen collectible found at Good Will and The Salvation Army, these bowls are now reaching "Retro Chic" status in some areas attracting more interest in buyers who like 1950s styles and decor. When buying these textured bowls, check that the roping is not stained. Also it might be wise to keep these bowls out of the dishwasher and to be careful about cleaning the outside roping.
C. Dianne Zweig
is the author of Hot Kitchen & Home Collectibles of the 30s, 40s, 50s and Hot Cottage Collectibles for Vintage Style Homes. She is also the Editor of
I Antique Online
an actively growing internet based resource community for people who buy, sell or collect antiques, collectibles and art. You can find Dianne's fabulous retro and vintage kitchen, home and cottage collectibles at The Collinsville Antiques Company of New Hartford, CT, a 22,000 feet antique emporium with an in-house retro café. To read more articles by C. Dianne Zweig click on this link:
C. Dianne Zweig's Blog Kitsch 'n Stuff
Email me at
dianne@cdiannezweig.com
Visit my website,
CDianneZweig.com
Dianne is a member of: The American Society of Journalists and Authors The Society of Professional Journalists