Raffiaware Tall Tumblers In Fabulous 1950s Colors
A few years ago, Martha Stewart featured an article on vintage plastic dishes in her magazine and every dealer ran to their storage sheds, basements and garages and dug out all their Raffiaware. Following Martha Stewart's article there was quite a buzz in the air as Thermo-Temp Thermoware plastic tumblers, pitchers, bowls, desserts, etc. were showing up everywhere. The excitement for these hip plastics has settled down a bit, especially in soft colors. But FAB colors such as TURQUOISE and CHARTREUSE still turn heads.
It's Plastic Time
As the warmer weather approaches, picnic wares and plastic dishes start finding their way back into shops and antique boothes. Even though I do not see as much interest in many of these plastics, I still adore them. I came across a wonderul set of 12 ounce tumblers in a small shop in Connecticut called "Antiques on Whiting" (Plainville).
Great Prices on Raffiaware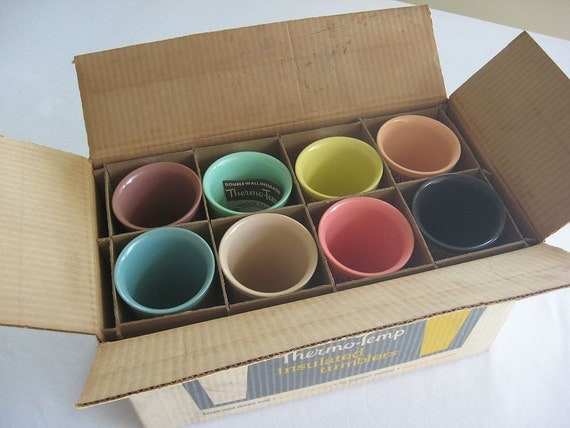 The mint set of vintage plastic tumblers that I found (not in the box) in this small but terrific little packed shop, had pastel colors that were so vibrant. These vintage "Raffiaware" or "Therno-Temp" tumblers as they are known, were being sold in this shop for $2.00 a piece which I consider a very fair. One tumbler was damaged, but the others were mint. If you do a little homework on the subject you will learn that the tumblers I spotted were originally sold from 1956-1959. These tumblers were sold in the 50s in a boxed set of eight different colors.
The boxed set below is how they were origibnally sold.
The boxed photo is courtesy of
http://www.etsy.com/transaction/57984262
C. Dianne Zweig
is the author of Hot Kitchen & Home Collectibles of the 30s, 40s, 50s and Hot Cottage Collectibles for Vintage Style Homes. She is also the Editor of
I Antique Online
an actively growing internet based resource community for people who buy, sell or collect antiques, collectibles and art. You can find Dianne's fabulous retro and vintage kitchen, home and cottage collectibles at The Collinsville Antiques Company of New Hartford, CT, a 22,000 feet antique emporium with an in-house retro café. To read more articles by C. Dianne Zweig click on this link:
C. Dianne Zweig's Blog Kitsch 'n Stuff
Email me at
dianne@cdiannezweig.com
Visit my website,
CDianneZweig.com
Dianne is a member of: The American Society of Journalists and Authors The Society of Professional Journalists