Melamine (Melmac) Dishes Popular in the 1950s and 1960s
I adore Retro Melamine dishes. Melamine resin dinnerware which was so popular in the 1950s and 1960s. Melmac was one brand name of Melamine resin "plastic dishes". During this era, plastics actually took over the favored use of ceramic tableware. As buyers began to see the limitations of Melamine such as easy scratching and staining, the plastic fad in kitchenware lost it's fizzle.
Baby Boomer Remember Melmac Dishes
But, how many of us who are baby boomers warmly remember our dinners on colorful Melmac plates? My mom had a set of orange and white square dishes and cups. Square plates in the kitchen was a very bold step for 50's homemakers. I hate to think of my parents as cool, but thinking back to our stylish Melmac, I guess we were hip.
Today you will find lots of Melmac dishes around, from full sets to box lots of assorted colors and styles. In an antique shop, as I have written about before, these plastic dishes take up a lot of room on our shelves and often are not big sellers (unless they are in unususal sets) even at very big discounts.
Displaying Melmac Dishes In Your Antique Booth
Over the weekend I spotted a stash of Melamine/Melmac dishes at Plainville CT Flea Market at The Crossing, Plainville, CT. The dealer, an older women who spends a good deal of time organizing the details in her booth, displayed her random pieces of Melmac in such delightful ways, that I was tempted to buy some of her dishes. But I remembered how much Melmac I have bought in the past and how long it sits and I resisted the urge!
Can You Microwave Melamine Or Melmac Dishes?
According to what I have read by others who have discussed this topic, it is not a good idea to put vintage Melamine dishes in the Microwave oven. Like other older products, these plastics absorb heat and can burn, crack, blister and change their shape. I have heard of people however who have Microwaved food with these dishes and their experience is that the plates get very hot and they have cracked a few over the years. I am very skiddish about plastics and heat so in my kitchen, I use only glass in the Microwave.
According to discussion on forums hosted by the Sociity for Culinary Arts and Letters,
"Vintage "Melmac" made
in the U.S. is safe to use for serving food.
You can't put it in the microwave or heat it in the oven, temps over 70° C will cause it to break down"
http://forums.egullet.org/topic/140493-melamine/
Can You Put Melamine Or Melmac Dishes In The Dishwasher ?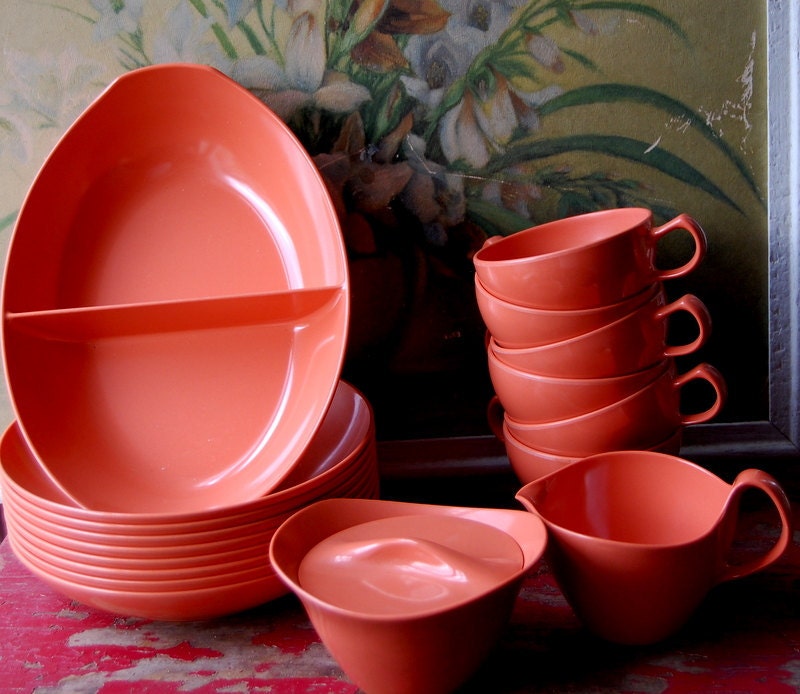 Many readers ask if you can put Melamine or Melmac kitchenwares in the dishwasher? I have found several answers to this question. Some believe that these plastics should only be washed in mild soapy water and not exposed to the harsher soaps used in a dishwasher. I would be concerned with patterns and colors fading with dishwsher use. Others are more concerned with food safety and the stabililty of chemicals used in making these dishes when exposed to heat. Please see:
http://forums.egullet.org/topic/140493-melamine/
I would love to hear from my readers with their experiences?
Visit Diann'e Pinterest Board called 1950s Plastic Kitchen
http://pinterest.com/kitschnstuff/1950s-plastic-kitchen/
Photo Credit:
Turquoise set:
http://noirlacquer.blogspot.com/2011/02/sinful-colors-mint-apple.html
Coral set:
http://www.etsy.com/shop/ValsVintageShoppe?ref=seller_info
Stacked cups:
http://pinterest.com/pin/182536591118535931/
Read More:
http://retrochalet.blogspot.com/search/label/Residential
http://www.squidoo.com/cleaning-melmac-or-melamine-dinnerware
C. Dianne Zweig
is the author of Hot Kitchen & Home Collectibles of the 30s, 40s, 50s and Hot Cottage Collectibles for Vintage Style Homes. She is also the Editor of
I Antique Online
an actively growing internet based resource community for people who buy, sell or collect antiques, collectibles and art. You can find Dianne's fabulous retro and vintage kitchen, home and cottage collectibles at The Collinsville Antiques Company of New Hartford, CT, a 22,000 feet antique emporium with an in-house retro café. To read more articles by C. Dianne Zweig click on this link:
C. Dianne Zweig's Blog Kitsch 'n Stuff
Email me at
dianne@cdiannezweig.com
Visit my website,
CDianneZweig.com
Dianne is a member of: The American Society of Journalists and Authors The Society of Professional Journalists